Formulary Medications Available at the VBA Pharmacy
The Virginia B. Andes Volunteer Care Community Pharmacy is dedicated to providing free pharmaceutical care to the residents of Charlotte County.
The patients that we serve are carefully screened and include the homeless, people who have lost their jobs and the working poor who cannot afford prescription insurance.
Our mission is to improve access to medications, and provide healthcare advocacy and educational services to this under-served population.
This formulary lists our most commonly prescribed medication that are readily available. Over 1000 additional medications are stocked, quickly available, or available through manufacturer assistance programs.
Medications that are highlighted are processed by our Advocate Department through manufacturer (PAP) programs. In many situations, we are able to provide the first month supply of PAP medications.
You are agreeing to therapeutic substitution unless "Dispense as Written" is handwritten on a prescription.
There are no controlled substances kept at or dispensed from the VBA Clinic and Pharmacy.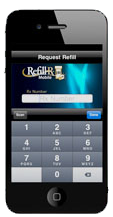 Patients:
CLICK HERE

to access your prescriptions online –
from your computer, tablet or phone – 24 hours a day, 7 days a week!
What does this mean to you?
No need to call in to refill your prescriptions. View and refill your prescriptions in the comfort of your home or office. The service is FREE.
It is our VBA Pharmacy commitment to provide you with exceptional service!