Remembering Virginia B. Andes
On December 29, 2014, our Clinic's namesake and benefactress passed away peacefully at age 95.  Virginia B. Andes was much more than just a name on a marquee.  She was a vital member of our team who helped shape the mission and culture of the Clinic. Virginia loved the volunteers and people that supported the clinic, and she was committed to helping the under-served in Charlotte County gain access to quality health and pharmacy care.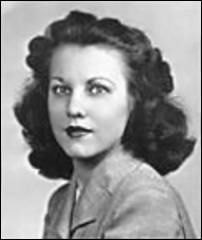 Virginia was born in Canton, OH, to John P. and Mellie Andes. She grew up in Canton, OH and graduated from McKinley High School in 1937. She was a member of the Girl's Service League, Leaders' Club, National Forensic League, Thespian Society – treasurer, Press club, Modern Writers' club, Dramatic club, Class play, Basketball, Hockey, Tennis, Booster club, and Friendship club. Her 1937 yearbook states, 'Virginia thinks the world a stage and so she plays her part.'
She attended Ohio University and Kent State University, was a member of Alpha Gamma Delta and received her degree in Business Education.
Hired by IBM during World War II in 1944, Virginia trained at what would become known as 'Tent City' on the IBM Campus in Endicott, NY. She retired in 1975 as an Advisory Systems Engineer, paving the way for other women in this industry. As one of the highly trained professional women at this time during the 40's and 50's, she often traveled throughout the United States for IBM, mechanizing accounting systems for a variety of businesses as one of IBM's Main System Engineers. Virginia retired after thirty-one years with IBM in 1975 to care for her mother.
In 1980 she moved to Naples, FL and began her next 'career' as a volunteer for the University of Florida's Extension Homemakers.
She became the secretary of this organization on the state level in Gainesville, FL and most often could be found teaching classes to other women in the area of money management. Extension Homemakers, along with being a member of the Naples Women's Club and Narrator for the Bonita Springs Chorus, were among her favorite memories. Virginia was also lovingly known as 'the hat lady' due to her love for hats. From Naples she moved to Fort Myers, FL in 1991 and spent four years volunteering at Southwest Regional Hospital. Then in 1995 her travels brought her to Port Charlotte, FL where she resided at South Port Square. She continued to volunteer at Fawcett Memorial Hospital, through Senior Friends.
Honors
In 2009, Virginia was awarded an honoree of the HCA Frist Humanitarian Award, given to outstanding individuals for their humanitarian and volunteer activities. Virginia's generous contribution to the Charlotte Community Foundation for a clinic that provides free healthcare to the under-served working poor in Charlotte County embodied the significance of this award. Her contribution purchased the building for the clinic that will live on into perpetuity as the 'Virginia B. Andes Volunteer Community Clinic'. She was again honored by the national society, Daughters of the American Revolution (DAR) – Charlotte Bay Chapter, with their prestigious Community Service Award in 2013.
When Virginia was asked, 'What is the most important thing people should know about life, from your perspective?' she shared, 'Take responsibility for yourself – be proactive to advance yourself. Choose to be a survivor and take responsibility in your life to get ahead.'