M*A*S*H Annual Appeal Kick-Off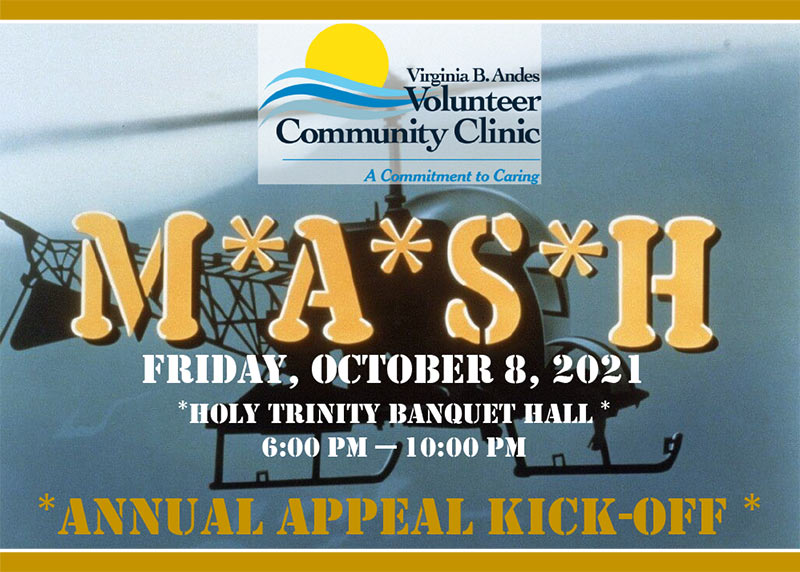 Virginia B. Andes Volunteer Community Clinic Presented the
2021 M*A*S*H
*ANNUAL APPEAL KICK-OFF*
at 6:00 – 10:00 PM


Friday, October 8, 2021
HOSTED AT
Holy Trinity Banquet Hall
Port Charlotte, FL
Games * Dinner * Cash Bar * Silent & Live Auctions
SPECIAL GUEST: Pvt. "Igor Straminsky, Cook"
EMCEE: Stacey Deffenbaugh
COSTUME CONTEST: Dress in M*A*S*H style to win prizes!
A special shout and thank you to everyone that made the MASH Annual Appeal Kick-Off a success:
Charlie Coury at Apple Video & Photography for the videos, photos and presentation,
Texas Road House for the BEST steak & salmon dinner with extraordinary sides and service,
Sunny Days Ice Cream for the flexibility and the treats!
Ace in the Hole Entertainers, Chase & Lido, for their patience and fun,
Port Charlotte Florist for the fabulous decor and volunteers,
Phil Wilson for the professionalism and energy,
The Heritage Military Museum for the Uniforms,
Staci and The Holy Trinity Event Center for an amazing job and great sense of humor,
Stacey Deffenbaugh of NBC News for her wit and personality,
All of the Volunteers, Leadership and Board,
David Klein for his daily inspiration,
Loretta Swit and Jeff Maxwell for their time and dedication to the cause
And a special SHOUT OUT to Michael Hirsch, MASH producer, for all of the time, talents connections and laughs…..