3rd Annual 2021 'Tis the Season Vivante Tennis Tournament
Benefiting the Virginia B. Andes Volunteer Community Clinic & Pharmacy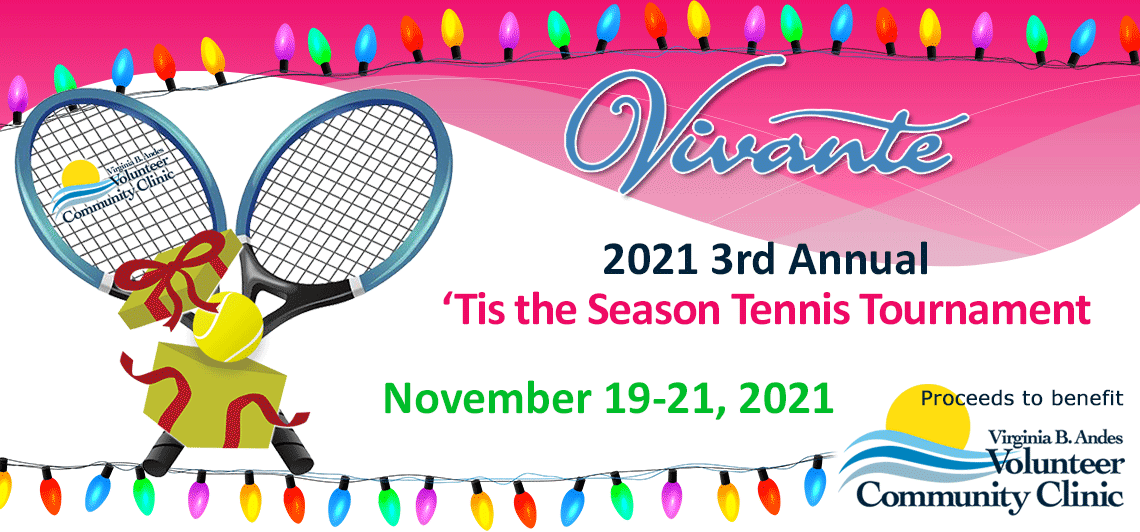 2021 'Tis the Season Vivante Tennis Tournament
Benefiting Virginia B. Andes Volunteer Community Clinic, this fun weekend will be held this year on Friday to Sunday, November 19th – 21st, 2021, at the Vivante Tennis Center, Punta Gorda FL.
The 3rd Annual Tournament will consist of 2 weekend-days of play for different levels of tennis players. The tournament is kicked off on Friday night with an exciting tennis exhibition and then our famous Sponsor/Player Party.
For sponsorship & more information, contact
Barb Robinson at 941-628-3664.
Due to fantastic participation we are now putting any new signups on a waiting list.
WAITING LIST: Please contact Leah Voyles by phone at 314-497-6065 to be placed on a dated waiting list. If a team withdraws from the tournament, we will contact teams on a first-in basis. Thank you for your interest in this event!
WE WELCOME THE PUBLIC TO THE EXHIBITION AND TENNIS MATCHES!
Friday: This year we are pleased to kick off the weekend with a lively exhibition match at 4:15 on November 19th.
The match will showcase upcoming stars in training at the IMG Academy (established in 1978 by the famous Bollettieri.) Andre Agassi, Serena Williams, & Maria Sharapova are just some of the champions trained at this academy.
This exhibition begins with music, trumpeters, high school ROTC presenting the colors and a live singing of America The Beautiful.  Festivities will include free beer, wine and soft drinks, donations appreciated. You won't want to miss this exciting new offering.
For Players and Sponsors, the Player/Sponsor Party follows with food, drink, auctions & raffles. Spoiler alert: NEW balloon pop raffle includes a 5-day cruise for two as the grand prize! Do you feel Lucky?
Saturday & Sunday Matches: Plenty of parking, follow the signs to the end of West Marion (around the back of Vivante.)
Food on Saturday will be provided for purchase by some our our areas BEST Food Trucks: Dank A.F., Mobstah Lobstah, Wally's BBQ, & Ice Cream by Zoet Sweet Boutique!
Food on Sunday will include Centennial Bank's famous fresh-grilled hot dogs & from Little Caesar's Pizza. We thank these sponsors for providing us food at no cost!
Calling for Sponsors
You can still donate to this wonderful fundraising event!

We are thankful for whatever support you can give. All proceeds will be used for this event and to donate to the VBA Clinic.
Vivante Tennis again teams up with Virginia B. Andes Volunteer Community Clinic to host an annual 'Tis The Season Tennis Tournament to raise funds for their important mission.
The Virginia B. Andes Volunteer Community Clinic provides no-cost volunteer Medical, Pharmacy and Wellness Services to the under-served in Charlotte County, regardless of race, religion, color, creed or national origin. The Clinic depends on support from the community through fundraising efforts to continue this important work.
Take a tour through their Port Charlotte facility on Olean Boulevard, across from Fawcett Hospital. You will see the important and worthy work they do – and understand why we at Vivante have chosen to support them.
Our past two tournaments were widely successful, each yielding over 100 player participants and collectively raising over $60,000 for our charity. We hope to increase this even more in 2021!
Friday Party & Weekend Play are held at
"Vivante at Punta Gorda"
2950 West Marion Avenue
Punta Gorda, FL 33950
Two ways to sponsor
Pay Online – please use the form on this page
Download and fill out the Sponsorship Packages form.
Send completed form and check to:
Virginia B. Andes Volunteer Community Clinic, 21297 Olean Blvd Port Charlotte, FL 33952
To request an invoice for payment, call Barb Robinson, Sponsor Chair, at 941-628-3664
US Open Platinum – $2,500
Company name on player gift
Logo & link on website, social media & print media
Event weekend banner displayed at courts for 1 year
Wimbledon Gold – $1,500
Logo & link on website, social media & print media
Event weekend banner displayed at courts for 1 year
French Open Silver – $750
Logo & link on website & social media
Australian Open Bronze – $500
Logo & link on website & social media
Charlotte Open – $250
Your name on our website & social media

(This webpage is donated by the Virginia B. Andes Volunteer Community Clinic and uses their payment processor. You will see this on your donation statement.)
Your payment will be processed through our legal name: Virginia B. Andes Volunteer Community Clinic, Inc. Thank you for your support!
We Thank Our Wonderful 2021 Sponsors Here!
Built Right Pool Heaters
Janet & Gary Kramer
Electrical Solutions
Dean Millonas
Patty Galvin
Tammy & Dan Topp
Robert Boehm Realtor
Dennis & Pam Massengill
The Club at Gateway
Jon Gesicki, DDS
Friendly Floors
Margaret Reilly - Antalec
Tim Towles
Jim & Karen McCague
Sandy & Dan Artman
Jeff Masters Electric, Inc.
Brenda E. Turner
Linda & Chris Schepperly
DM Dean Inc. Custom Homes
Dr. & Mrs. Sanjeev & Rakhsha Zutshi
Bobbi & Jay Crane
Bob Head, Your Vivante Realtor