3rd Annual 2021 'Tis the Season Vivante Tennis Tournament
Benefiting the Virginia B. Andes Volunteer Community Clinic & Pharmacy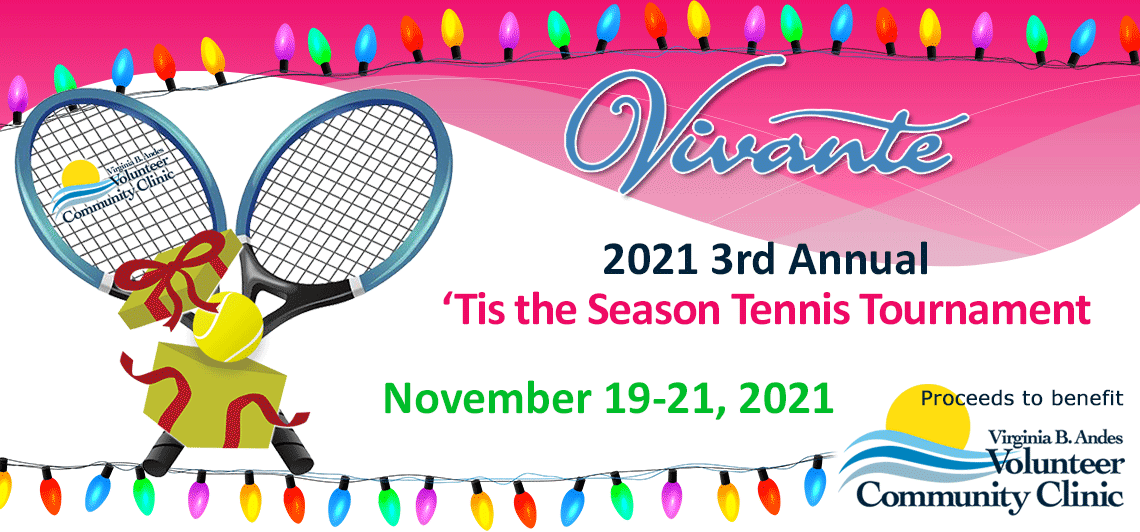 2021 'Tis the Season Vivante Tennis Tournament
Benefiting Virginia B. Andes Volunteer Community Clinic, this fun weekend was held this year on Friday to Sunday, November 19th – 21st, 2021, at the Vivante Tennis Center, Punta Gorda FL.
The 3rd Annual Tournament consisted of 2 weekend-days of play for different levels of tennis players. The tournament is kicked off on Friday night with an exciting tennis exhibition and then our famous Sponsor/Player Party.
The 'Tis the Season tournament committee would like to THANK all who donated and participated in this year's very successful tournament weekend!
It again was the largest tennis tournament of the season, with more than 100 players participating. Over $67,000 was raised, which will be donated to the Virginia B. Andes Volunteer Community Clinic. Live & silent auctions and raffles raised over $7,400.
114 players for 107 teams competed. This is an all-time high for the tournament, again making it the largest tournament in the area!
GRAND PRIZE in the Live Auction went for $675.00, for a Yetti cooler filled with premium booze.
GRAND PRIZE for the auction "Balloon Pop" was a 5-day cruise for two. A Vivante resident was the lucky recipient!
Why do we put on this tennis tournament weekend? For the love of the game and to honor and donate to the Virginia B. Andes Volunteer Community Clinic! This is our 3rd tournament to raise funds for their important, local Charlotte County mission.
The mission of VBA Clinic is to provide no-cost primary and semi-urgent medical services and prescription medication to our uninsured neighbors in Charlotte County.
THANK YOU TO ALL WHO ATTENDED THE EXHIBITION AND PLAYED IN TENNIS MATCHES!
Friday: This year we kicked off the weekend with a lively exhibition match on November 19th.
The match showcased upcoming stars in training at the IMG Academy (established in 1978 by the famous Bollettieri.) A big thanks to Alois Rommer from Austria, Dagne Andreae and Laura Damm Boleteri for your great exhibition and for also participating Saturday & Sunday!  Andre Agassi, Serena Williams, & Maria Sharapova are just some of the champions trained at this academy.
The exhibition began with music, trumpeters, our high school ROTC presenting the colors, and a live singing of 'America The Beautiful'.  Festivities included free beer, wine and soft drinks. Thanks to the anonymous sponsor who matched all the donations collected for the drinks. A crowd of over 125 fans watched courtside and from the gallery.
The Player/Sponsor Party followed that included food, drink, auctions & raffles.
Saturday & Sunday, the courts were full from 8 AM to 7 PM with exciting doubles matches played in the unique format for this tournament. Approximately 114 players comprising 107 teams competed. The weather was cool and overcast, play stopping briefly once for a quick shower.
Food on Saturday was provided for purchase by some our our areas BEST Food Trucks: Dank A.F., Mobstah Lobstah, Wally's BBQ, & Ice Cream by Zoet Sweet Boutique!
Food on Sunday was donated to the cause and included Centennial Bank's famous fresh-grilled hot dogs & from Little Caesar's Pizza. The VBA Clinic provided snacks, beverages and fruit Saturday & Sunday. We thank these sponsors for providing us food at no cost! Generous donations from players and fans for the food they ate go straight to our total donation to the Virginia B. Andes Volunteer Community Clinic!

Thank you – We wish you a Happy Holidays!
Photos are posted in DropBox.
More to come!
We Thank Our Wonderful 2021 Sponsors Here!
Built Right Pool Heaters
Janet & Gary Kramer
Electrical Solutions
Dean Millonas
Patty Galvin
Tammy & Dan Topp
Robert Boehm Realtor
Dennis & Pam Massengill
The Club at Gateway
Jon Gesicki, DDS
Friendly Floors
Margaret Reilly - Antalec
Tim Towles
Jim & Karen McCague
Sandy & Dan Artman
Jeff Masters Electric, Inc.
Brenda E. Turner
Linda & Chris Schepperly
DM Dean Inc. Custom Homes
Dr. & Mrs. Sanjeev & Rakhsha Zutshi
Bobbi & Jay Crane
Bob Head, Your Vivante Realtor