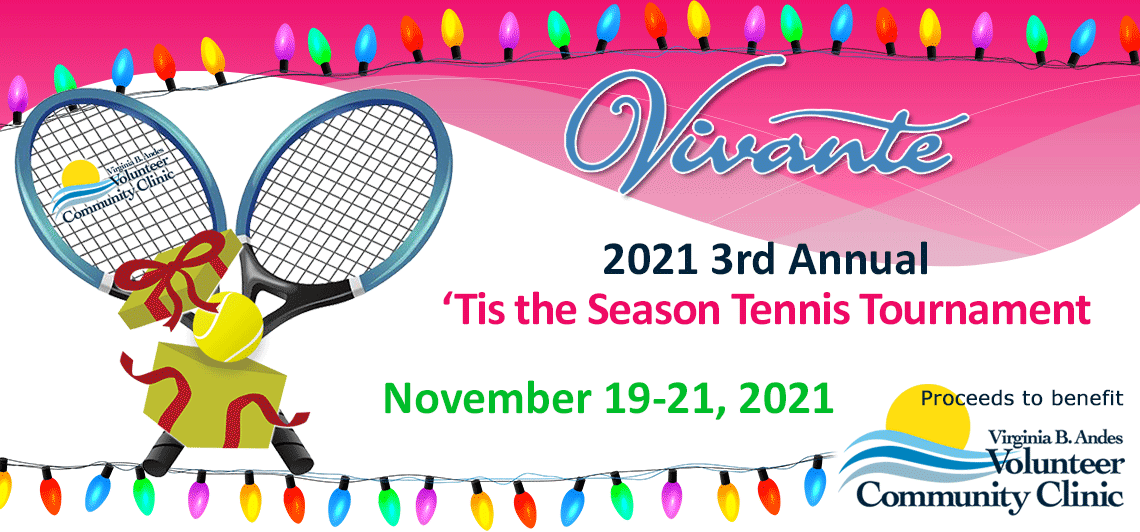 Saturday-Sunday, Nov. 20-21,
Vivante Tennis Center
Finding Vivante at Punta Gorda:
2950 West Marion Avenue, Punta Gorda, FL 33950
TENNIS MATCH DAY PARKING (SAT/SUN, NOV. 20-21): Follow West Marion past the Vivante entrance gate, on to North Marion. Tennis parking will be at the end of this street on the lawn – and offer easy access to the courts.
Player Information
Please check in to play at least 30 minutes prior to play
Regular ad scoring, USTA rules & regulations will be used. This is a non-sanctioned event (won't affect your rating)
Weather: please monitor this page for announcements about inclement weather
Players receive a gift for participating and are celebrated at the player/sponsor party which includes food from Beef 'O' Brady's.  Wine and beer are available for donations to VBA.
If you have any questions, please contact Leah Voyles, 314-497-6065, or Joe Voyles, 314-324-9403
Terms of Participation for the 2021 3rd Annual Vivante 'Tis the Season Tennis Tournament
By signing up to participate in this tournament, I agree that I will exhibit good sportsmanship and I waive and release anyone associated or affiliated with this event from any and all claims, potential claims or damages that may arise from my participation in this event. I grant permission to the Vivante Tennis Tournament organization and Virginia B. Andes Volunteer Community Clinis, their agents, successor or assignees, to record my name, likeness, image, voice, sound effects, interview and/or performance to be used in all markets, manner and media (print and digital) for the purpose of advertising and publicity without restriction by the above organizations. I waive my right to any compensation. It is also understood that any such materials will be used by the above organizations with the highest integrity and discretion, with the intent to communicate responsibly and ethically.
Thank you, we appreciate your participation!!
2021 WINNERS – FIND YOUR EVENT
Cynthia Allison and Krystyna Shnier

Mike Dracey and Patrick Grady
Mark McCall and Janine McMall

Dan Liebner and Tony Johnston

Renee Murno and Diane DeGurian

Gerry Smith and Steff Pamukoff

Diane DeGurian and Ann Pfister-Brown

Kenny Ebersole and Kim Shotwell

Christian Kearns and Kevin Kearns
Christian Kearns and Camille Carnes