Tennis Player Registration
Benefiting the Virginia B. Andes Volunteer Community Clinic & Pharmacy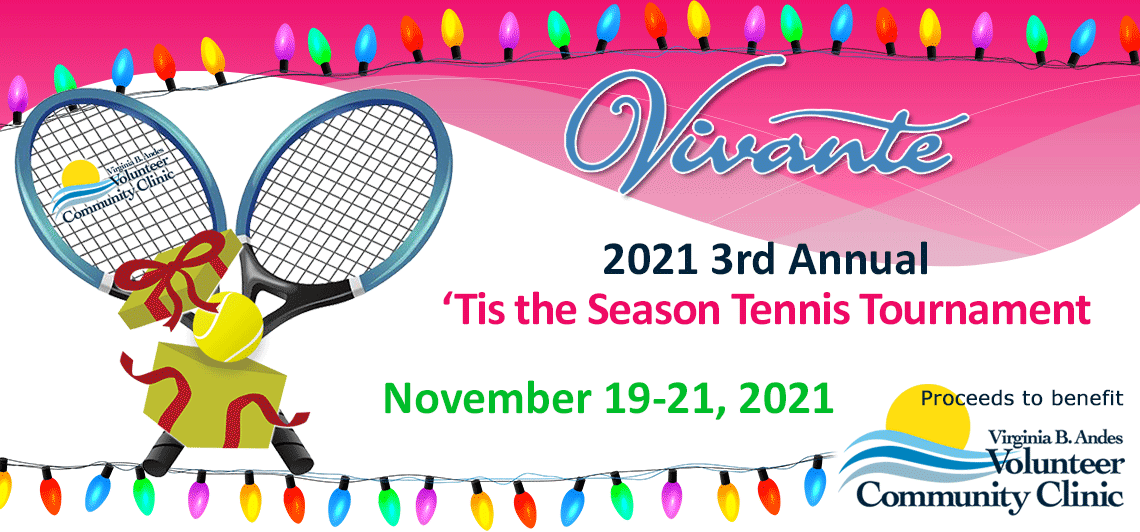 ANNOUNCING
2021 'Tis the Season Vivante Tennis Tournament
Benefiting Virginia B. Andes Volunteer Community Clinic, this fun weekend will be held this year on Friday to Sunday, November 19th – 21st, 2021, at the Vivante Tennis Center, Punta Gorda FL.
The 3rd Annual Tournament will consist of 2-weekend-days of play for different levels of tennis players. The tournament is kicked off on Friday night with a Sponsor/Player Party.
For sponsorship & more information, contact
Barb Robinson at 941-628-3664.
PLAYERS: Use this form to participate in the tennis tournament.
By signing up to participage in this tennis tournament, you agree to these Terms of Participation.
Thank you, we appreciate your participation!!
Instructions: there are TWO parts to signing up for the tournament, Payment and Registration
1. Pay here. You should pay for only yourself (1). Your partner will pay for him or herself.
2. Your partner also needs to pay.
3. After paying for your entry, you will be directed to the next important step, "Player Registration Details."
4. To be considered fully registered to play in the 2021 Vivante Tennis Tournament, please fill out the Player Registration Details form completely and submit.
5. Your partner must also fill out this form when he/she registers.