Making our community healthier. Right here. Right now.
November, 2020:  When you or a family member is ill or injured, where do you turn? You go to your local physician, pharmacy or area hospital. Why? Because you know you will receive absolute top-notch medical care.
But just for a moment consider what you or your family would do if you had no insurance and limited funds. Where would you go?
Due to the pandemic people who never imagined themselves in this situation were faced with loss of income, loss of health care and additional mental & physical stress.
VBA was here to ease their fears, provide their care and supply their medications.
We could not hold fundraisers but we remained open. We struggled to get volunteers & providers but we remained open. We knew the needs and found the solutions.
Virginia B. Andes Volunteer Community Clinic has been the answer for over 30,000 uninsured residents of Charlotte County since 2000, offering free onsite exams, primary and semi urgent wellness services, minor procedures and limited surgical and laboratory services. We also provide prescription medications, one on one counseling and patient advocacy. Believing that prevention is the best cure, we promote, encourage and support healthy life styles with all of our patients through programs, workshops and education.
A healthy community is good business. Our work not only saves lives but also has a powerful economic impact. The clinic reduces emergency room traffic at our hospitals, builds a healthy workforce and inspires a culture of volunteerism. Many former patients come back to help others.
We are so grateful to you for helping to create and support our committed team of board members, staff and volunteers. You are helping our caregivers touch the lives of thousands – whether patients are facing an urgent need, a devastating disease or seeking to improve their quality of life.
VBA is your community clinic. We exist to serve – to provide hope, healing and recovery. Your gift is extremely important because it offers immediate resources that are directed to current needs and opportunities at the clinic & pharmacy. Every dollar will help make an immediate impact on urgently needed health services to our community.
$234 Average Office Visit – $448 Specialty Care & Medications
$2493 covers Semi Urgent Care
PLEASE SEND YOUR GIFT TODAY – YOUR DONATION CAN SAVE A LIFE
EVERY DONATION (UP TO $25,000) WILL BE MATCHED
BY THE VBA BOARD OF DIRECTORS AND LEADERSHIP TEAM
Our Physicians, Mid-Level Providers, Nurses, Therapists, Pharmacists, Technicians, Board of Directors, Volunteers and Staff, everyone here who works to serve, joins me in thanking you in advance for your generous partnership and support.
Suzanne Roberts, M.Ed.
Chief Executive Officer
YES! I want to support the VBA Clinic & Pharmacy to help save lives in Charlotte County!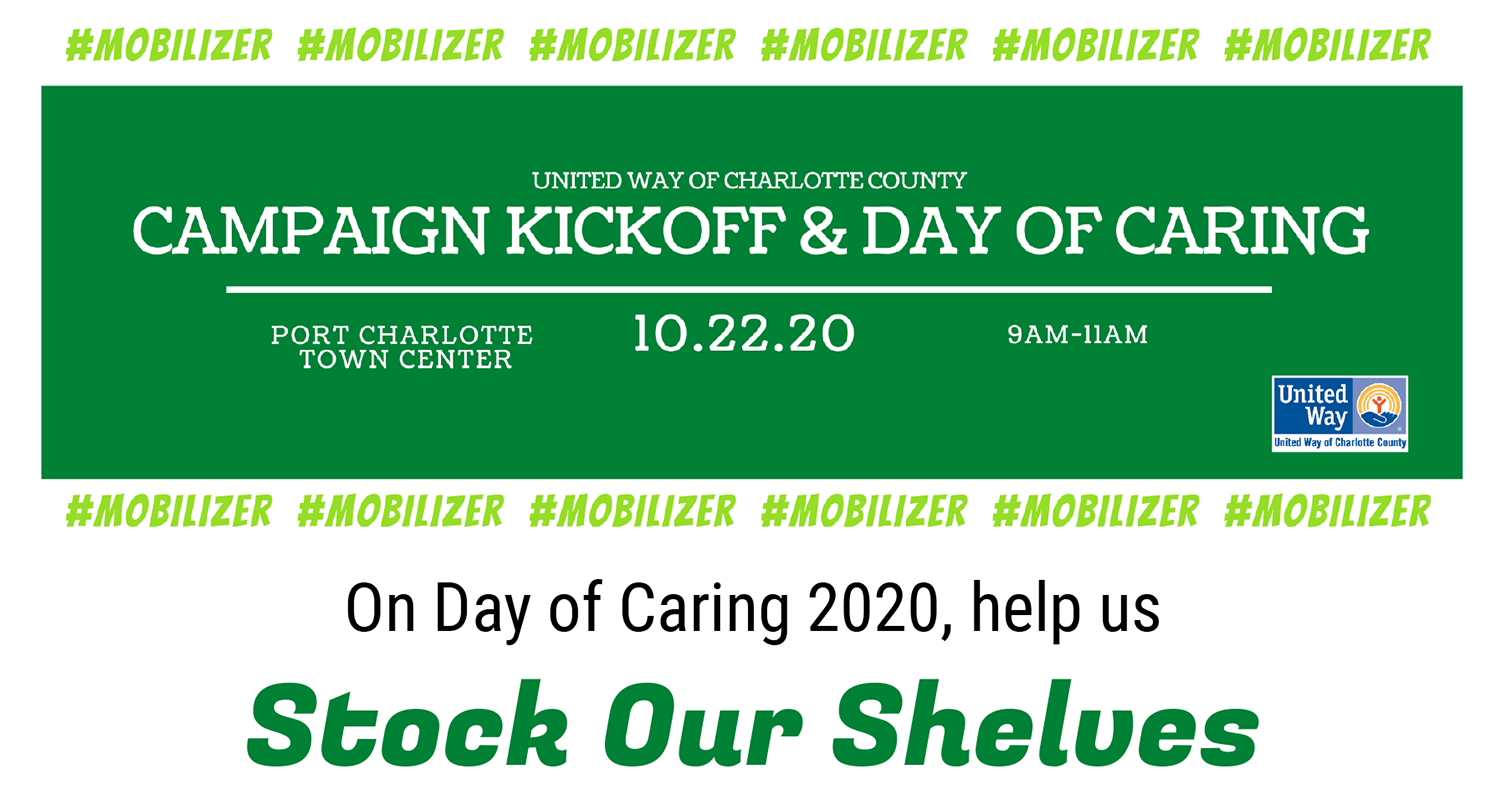 Virginia B. Andes Volunteer Community Clinic supports
Day of Caring 2020, Help Us Stock Our Shelves
Nonprofit agencies have been working hard to serve our community.
They have given of their hearts. They have given of their resources.
Through the United Way of Charlotte County, FL, YOU can help give back!
Select from our list of requested items and collect as many of your item as you can! Do it as an individual, group, family or business. Every dollar that our agencies do not have to spend on stamps, school supplies, personal care products, nonperishable food items, etc., is a dollar that will go into providing services to help our residents.
Campaign Kickoff begins at 9 am on October 22 in the Port Charlotte Town Center parking lot near the old Sears Auto Center. Following the kickoff, items are to be dropped off through a contact-less drive-through until 11 am.
For more information and to sign up for your Day of Caring project:


www.unitedwayccfl.org/dayofcaring
3rd Annual 2020 'Tis the Season Vivante Tennis Tournament is CANCELED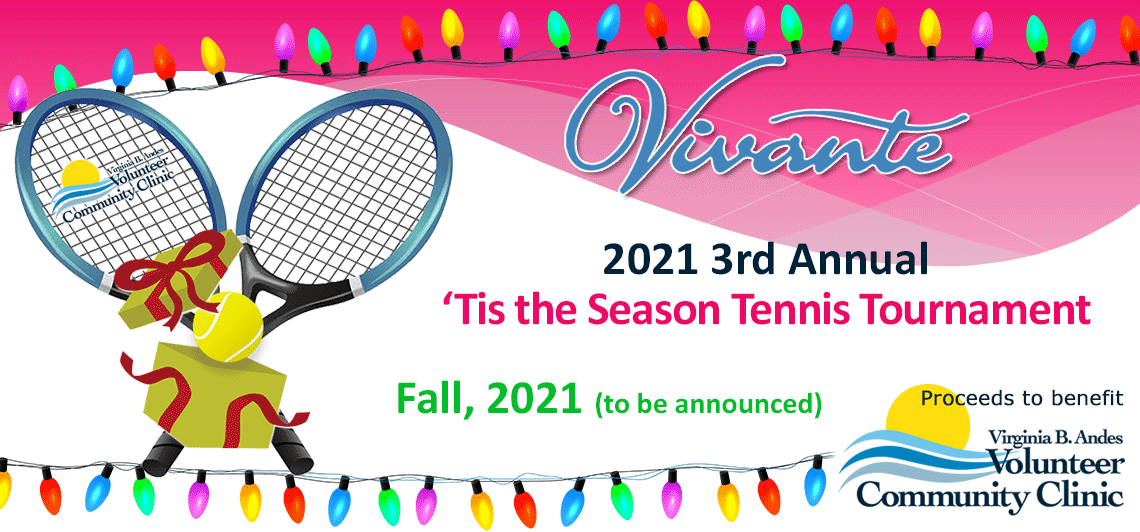 Dear Tennis Community,
The 'Tis the Season' Vivante Tennis Tournament event that was to be hosted in November has been canceled for 2020.
A variety of factors, including the safety of the community by limiting large gatherings, was weighed by the committee and we concur that it is just not possible to provide the kind of upscale tournament we've given the past 2 years. We've set our sights on 2021 for a fall event (date to be determined).  The committee looks forward to kicking off our organizational meetings in January.
Unfortunately, this also means that we cannot provide our nonprofit, Virginia B. Andes Volunteer Community Clinic, with our annual donation this Fall.
Because we know that they depend on donations like ours, we are asking that you consider donating the monies you would have spent  during the tournament on sponsorships, fees, raffle monies etc.
The VBA Clinic and Pharmacy have been able to remain open every day throughout the pandemic, easing the burden of our local hospital emergency rooms.  And, with more people unemployed, their role has become even more vital.
All VBA fundraising events have been canceled in 2020; their patient operational funds are down, so your contributions would be greatly appreciated. 
Thank you for your consideration and generosity!
Sincerely,
'Tis the Season Vivante Tennis Tournament Committee
Dan and Tammy Topp, co-chairs
941-626-8456