3rd Annual 2021 'Tis the Season Vivante Tennis Tournament
Benefiting the Virginia B. Andes Volunteer Community Clinic & Pharmacy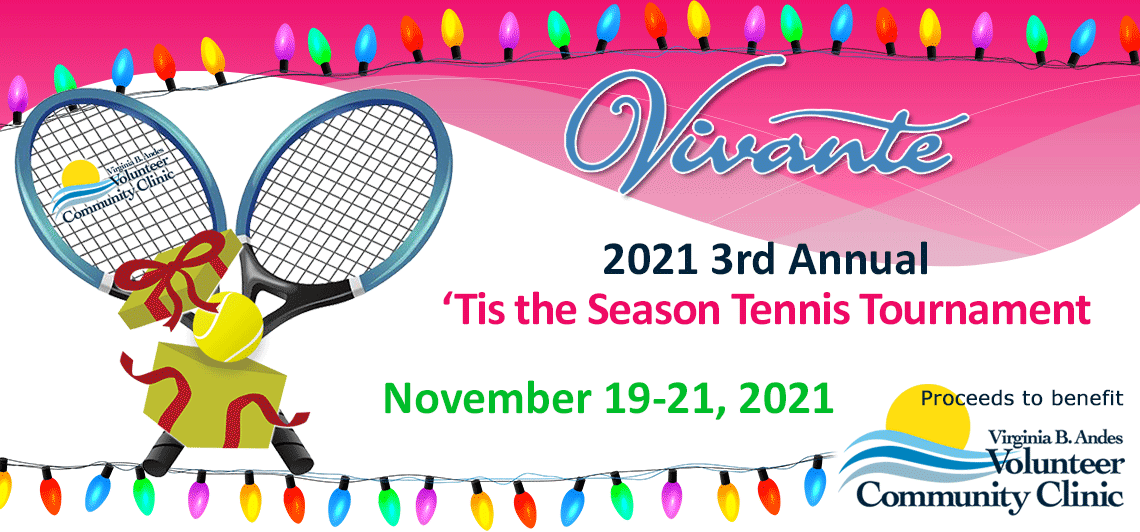 ANNOUNCING
2021 'Tis the Season Vivante Tennis Tournament
Benefiting Virginia B. Andes Volunteer Community Clinic, this fun weekend will be held this year on Friday to Sunday, November 19th – 21st, 2021, at the Vivante Tennis Center, Punta Gorda FL.
The 3rd Annual Tournament will consist of 2-weekend-days of play for different levels of tennis players. The tournament is kicked off on Friday night with a Sponsor/Player Party.
For sponsorship & more information, contact
Barb Robinson at 941-628-3664.
View 2019 Tournament Fun (our 2020 tournament was canceled due to the pandemic)

Calling for Sponsors
You can now donate to this wonderful fundraising event!

We are thankful for whatever support you can give. All proceeds will be used for this event and to donate to the VBA Clinic.
Vivante Tennis again teams up with Virginia B. Andes Volunteer Community Clinic to host an annual 'Tis The Season Tennis Tournament to raise funds for their important mission.
The Virginia B. Andes Volunteer Community Clinic provides no-cost volunteer Medical, Pharmacy and Wellness Services to the under-served in Charlotte County, regardless of race, religion, color, creed or national origin. The Clinic depends on support from the community through fundraising efforts to continue this important work.
Take a tour through their Port Charlotte facility on Olean Boulevard, across from Fawcett Hospital. You will see the important and worthy work they do – and understand why we at Vivante have chosen to support them.
Our past two tournaments were widely successful, each yielding over 100 player participants and collectively raising over $60,000 for our charity. We hope to increase this even more in 2021!
Two ways to sponsor
Pay Online – please use the form on this page
Download and fill out the Sponsorship Packages form.
Send completed form and check to:
Virginia B. Andes Volunteer Community Clinic, 21297 Olean Blvd Port Charlotte, FL 33952
To request an invoice for payment, call Barb Robinson, Sponsor Chair, at 941-628-3664
US Open Platinum – $2,500
Company name on player gift
Logo & link on website, social media & print media
Event weekend banner displayed at courts for 1 year
Wimbledon Gold – $1,500
Logo & link on website, social media & print media
Event weekend banner displayed at courts for 1 year
French Open Silver – $750
Logo & link on website & social media
Australian Open Bronze – $500
Logo & link on website & social media
Charlotte Open – $250
Your name on our website & social media

(This webpage is donated by the Virginia B. Andes Volunteer Community Clinic and uses their payment processor. You will see this on your donation statement.)
Your payment will be processed through our legal name: Virginia B. Andes Volunteer Community Clinic, Inc. Thank you for your support!
Making our community healthier. Right here. Right now.
 When you or a family member is ill or injured, where do you turn? You go to your local physician, pharmacy or area hospital. Why? Because you know you will receive absolute top-notch medical care.
But just for a moment consider what you or your family would do if you had no insurance and limited funds. Where would you go?
Due to the pandemic people who never imagined themselves in this situation were faced with loss of income, loss of health care and additional mental & physical stress.
VBA was here to ease their fears, provide their care and supply their medications.
We could not hold fundraisers but we remained open. We struggled to get volunteers & providers but we remained open. We knew the needs and found the solutions.
Virginia B. Andes Volunteer Community Clinic has been the answer for over 30,000 uninsured residents of Charlotte County since 2000, offering free onsite exams, primary and semi urgent wellness services, minor procedures and limited surgical and laboratory services. We also provide prescription medications, one on one counseling and patient advocacy. Believing that prevention is the best cure, we promote, encourage and support healthy life styles with all of our patients through programs, workshops and education.
A healthy community is good business. Our work not only saves lives but also has a powerful economic impact. The clinic reduces emergency room traffic at our hospitals, builds a healthy workforce and inspires a culture of volunteerism. Many former patients come back to help others.
We are so grateful to you for helping to create and support our committed team of board members, staff and volunteers. You are helping our caregivers touch the lives of thousands – whether patients are facing an urgent need, a devastating disease or seeking to improve their quality of life.
VBA is your community clinic. We exist to serve – to provide hope, healing and recovery. Your gift is extremely important because it offers immediate resources that are directed to current needs and opportunities at the clinic & pharmacy. Every dollar will help make an immediate impact on urgently needed health services to our community.
$234 Average Office Visit – $448 Specialty Care & Medications
$2493 covers Semi Urgent Care
PLEASE SEND YOUR GIFT TODAY – YOUR DONATION CAN SAVE A LIFE
EVERY DONATION (UP TO $25,000) WILL BE MATCHED
BY THE VBA BOARD OF DIRECTORS AND LEADERSHIP TEAM
Our Physicians, Mid-Level Providers, Nurses, Therapists, Pharmacists, Technicians, Board of Directors, Volunteers and Staff, everyone here who works to serve, joins me in thanking you in advance for your generous partnership and support.
Suzanne Roberts, M.Ed.
Chief Executive Officer
YES! I want to support the VBA Clinic & Pharmacy to help save lives in Charlotte County!