3rd Annual 2020 'Tis the Season Vivante Tennis Tournament is CANCELED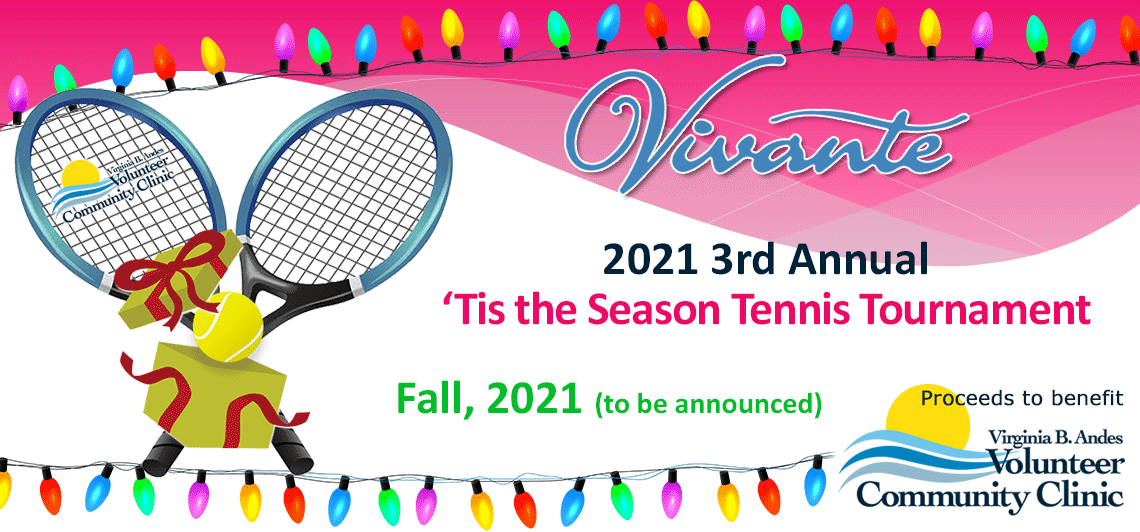 Dear Tennis Community,
The 'Tis the Season' Vivante Tennis Tournament event that was to be hosted in November has been canceled for 2020.
A variety of factors, including the safety of the community by limiting large gatherings, was weighed by the committee and we concur that it is just not possible to provide the kind of upscale tournament we've given the past 2 years. We've set our sights on 2021 for a fall event (date to be determined).  The committee looks forward to kicking off our organizational meetings in January.
Unfortunately, this also means that we cannot provide our nonprofit, Virginia B. Andes Volunteer Community Clinic, with our annual donation this Fall.
Because we know that they depend on donations like ours, we are asking that you consider donating the monies you would have spent  during the tournament on sponsorships, fees, raffle monies etc.
The VBA Clinic and Pharmacy have been able to remain open every day throughout the pandemic, easing the burden of our local hospital emergency rooms.  And, with more people unemployed, their role has become even more vital.
All VBA fundraising events have been canceled in 2020; their patient operational funds are down, so your contributions would be greatly appreciated. 
Thank you for your consideration and generosity!
Sincerely,
'Tis the Season Vivante Tennis Tournament Committee
Dan and Tammy Topp, co-chairs
941-626-8456